Grab some friends or extended family and throw a last minute Polar Express Party!
First gather the kiddos together and read the Chris Van Allsburg classic. Then tell them to run and put some jammies on... they're going to get a ride on the minivan express!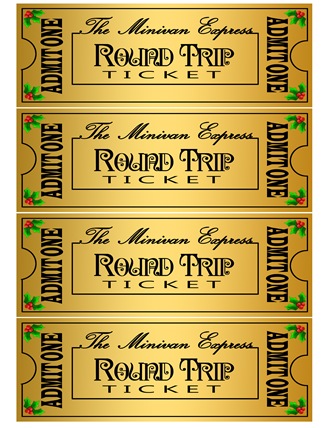 Hop over to
Confessions of a Homeschooler
and print off her adorable minivan express tickets. I wrapped a bandana around my neck and punched holes into each child's ticket, giving them a
train whistle
to take along.
Then pile into those minivans, turn up the Christmas music, and go see some lights!
When you get back, stir up some hot chocolate and do a simple activity like decorating Christmas cookies. (Just pick up some refrigerated dough and canned icing.)
Then settle everyone on the couch for a viewing of Robert Zemeckis' version of
The Polar Express
(Netflix has it on streaming). What better way to enjoy a chilly December evening then with friends, cookies, and one of the best-loved Christmas stories?